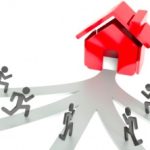 The December numbers have been published by the Canopy Realtor Association. The report indicates that the entire yearly trend is here to stay for a while at least. Home prices are still on the rise with the average home price in the Charlotte area climbing to $410,119. Inventory is at an all time low with just 3,041 homes for sale in the area representing 0.6 months supply of inventory. Homes are selling quickly and, in a lot of cases, still selling for above list price.
When you look at the numbers for Lake Wylie, prices are definitely on the rise. The average home price in December was $570,379 and the median price came in at $508,750. With demand still high, prices don't seem like they are going to be coming down any time soon.
Inventory in Lake Wylie is at a 0.6 month supply or just 91 homes for sale. This is down 50.8% from last December when there were 185 homes for sale.
Homes in Lake Wylie are selling for an average of 26 days from list until contract. This is down 33.3% from last December when it was 39 days. This means that buyers have to be ready to put in an offer as soon as a home is listed.
In Lake Wylie, homes are selling for an average of 101% of list price. This means that buyers are still having to be ready to offer above list price and we are still seeing multiple offers on some homes.
Pending sales are up 17.3% from last December, and that should result in strong closed sales in January. Buyers may be spooked by the idea of rising interest rates. We could see a strong winter season as buyers want to lock in mortgage rates before they rise.
For more information on buying or selling a home in the Lake Wylie area, call us at 803-831-8588. You can view current listings and create custom searches on our website here.