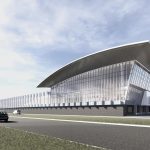 It was announced that the Charlotte Douglas International Airport will once again be under construction. This time, the expansion will bring 10 more gates to help ease travel and possibly offer new destinations for travelers.
The project is expected to cost $231 million and will also include as part of the 10 gates, three common use gates. The new gates will be numbered A31-40. Currently Charlotte airport is the fifth-busiest in the world for arrivals and departures and the sixth-busiest for passenger traffic. These numbers are from the Airports Council International 2021 preliminary rankings.
In addition to the gates, the project will bring 191,848 square feet of space with automatically tinting windows, high ceilings, and scenic windows. Passengers will delight that they can charge devices at your seat at the gate. A new store, restaurant, and two bars should help fill in the space as well.
The new space will also boast many new works of art to proudly display the culture of the Piedmont. Two of the new pieces of artwork have been commissioned in part with the Arts & Science Council by artists Benjamin Ball and Val Britton.
The new expansion is scheduled to be completed in the fall of 2024 so we will have to deal with the sounds, and dust from construction for a while. It should be a showplace that will signal to travelers what Charlotte is all about.
If you want to know more about any of this upcoming project or want to schedule a showing on a home in the Lake Wylie area, call us at 803-831-8588. You can view current listings and create custom searches on our website here.