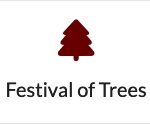 The fifth annual Belmont Festival of Trees is set to occur this Monday night, November 28th. It is a great event with tree lighting in addition to luminaries throughout the park. This wonderful community gathering kicks off many celebrations throughout the holiday season.
Festive trees will be decorated with holiday lights with the official lighting at 6:30 pm. A special display of "Oh Starry Night" in luminaries will be presented by Strong Like AK on the upper field of Stowe Park.
The event is located at 24 S. Main Street in the heart of Belmont. If you can't get to the official lighting ceremony, never fear. The trees have decorations as well as lights so they can be enjoyed day or night throughout the month of December with an end date of January 3rd.
Luminaries can be purchased to light the "Oh Starry Night: Lighting a Path to Hope". They are a fundraiser to help support pediatric cancer patient financial care and housing support. This is through the Strong Like AK foundation. They can be donated at this link for $20 each. This worthy cause helps ease the financial burden of some of the 1.7 million people diagnosed each year with cancer. You can dedicate your luminary to someone currently fighting cancer or in memory of someone lost to cancer. You can share the story of the person you are honoring and it will be on display for the entire month of December.
For more information about buying and selling homes in the Lake Wylie Area, call us at 803-831-8588. You can view current listings and create custom searches on our website here.
To learn more about the Belmont Festival of Trees, check out the website here.