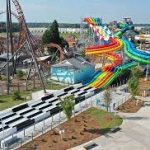 It's that time of year again, Carowinds has opened for summer! It's a great getaway for young and old alike with thrill rides, adventure, waterpark, and much more. The 2021 summer season is underway with the waterpark opening this weekend to join the rest of the park.
There are a few differences this year, with reservations for entry to keep park visitors numbers reduced. Reservations are required for season ticket holders as well as day pass visitors. Visit the Carowinds website https://www.carowinds.com/ to make reservations. Slots are filling up quickly, especially reservations for the main park and waterpark. Be sure to get yours today.
Masks will still be required for guests that have not been vaccinated for Covid-19, but temperature checks are no longer necessary. With vaccination rates on the rise, that means that you should see many maskless faces making the park feel almost like normal again.
If you do go to the waterpark, be sure to check out the new Boogie Board Racer, the longest mat racing slide in the Southeast. It joins the almost 60 other rides, the rest of the waterpark, and the live entertainment to keep you having fun all summer long.
For out of town guests, there is an onsite hotel and campground so there are accommodations for every budget.
There is something for everyone at the park, just don't forget to bring your sunscreen, or do since they sell sunscreen at shops throughout the park.
For information on buying or selling a home in the Lake Wylie area, call us at 803-831-8588. You can view current listings and create custom searches on our website here.