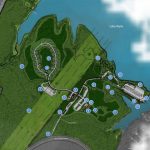 If you are a frequent user of the Allison Creek Access Area and boat ramps, you will need to find an alternate access point starting next month. The two boat ramps and fishing access will be closed for improvements.
The area is scheduled for a much needed upgrade which will feature RV and tent camping, picnic area, trails, canoe/kayak launch, and ranger station spaces. York County recently rezoned 165 acres as part of the project.
The work is slated to begin in August of 2021 with a reopening planned for late in 2022. In the meantime, you can use access points at Buster Boyd, Ebenezer Park, Nivens Creek, or South Point. All of these areas have boat ramps, but there are many other public access points for the lake that do not have boat ramps.
This project is part of the requirements for Duke Energy as part of their federal license to continue operations of hydropower plants on the Catawba River. They have many other improvements in the area including restrooms at the Buster Boyd Access Area, a new riverfront park in Rock Hill, and the restoration of Great Falls. There are many other improvements that have been completed already, are in the works, or have been planned.
For information about buying and selling homes in the Lake Wylie area, give us a call at 803-831-8588 and we can put together a plan for you and your family. You can view current listings and create custom searches on our website here.