Due to construction at Charlotte Douglas International Airport delays in security lines will be longer for the entire summer. More people travel over the summer making it the busiest time for the airport. This will inevitably lead to shorter tempers which means that travelers will need to be patient.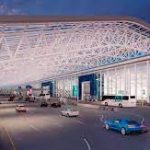 The airport has done some things to help mitigate the delays. Checkpoint B will be closed, but the airport has an app that will show you wait times at all of the checkpoints so you can find the shortest wait time. In addition, they are saying that you should arrive 2 hours early for domestic flights and possibly earlier for international flights.
Expected wait times should go from an average of 10-20 minutes to an average of 35-45 minutes. Since you can plan for this, make sure to eat and use the facilities before you jump into the line. You can have activities for young children to keep them entertained during the wait. If you have the means and the time, it is worth it to invest in TSA pre-check which can shorten wait times as well.
This renovation is part of the $608 million terminal lobby expansion project. This five year project is already about halfway done. Part of the project involves going from 5 checkpoints down to just 3, but they will be more technologically advanced and should shorten wait times going forward. The entire project is expected to be fully completed in 2025.
If you are curious about what your home is worth or if it's a good time for you to buy, give us a call at 803-831-8588. We would love to share our perspective on Lake Wylie and the Charlotte area. You can view current listings and create custom searches on our website here.