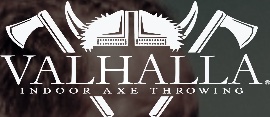 If you're like us, this past year has been frustrating and we can use an outlet for that frustration. Enter Valhalla Axe Throwing in Belmont. This great business channels your inner viking to great effect and entertainment. Valhalla is part of the Backyard Axe Throwing League and is perfect for small or large groups.
Axe throwing has gained popularity in recent years all across the country. It is a great way to let off steam, but it has also become a sport in it's own right. Robert White is behind the project and he has already opened another location in Eastridge Mall in Gastonia. The new location is on Woodlawn Street and has 3,750 square feet, enough for 80 customers at a time to throw axes safely. You can play as a team or individual, with or without competition.
Customers pay an hourly rate to throw the axes and don't have to worry about ordering alcohol or food as they are not on the menu. This is truly just a sporting club with a lounge and service area. Now is the time to test out your quarantine body strong from your Peleton to get a great core and arm workout on one of the 10 axe targets.
Valhalla Axe Throwing opened on May 28th so come on in anytime. An hour will cost you $20 per person with two hours only $35 per person. There are group rates for small parties, corporate events, or other large gatherings.
For food and drinks, make sure to check out The Thirsty Dog across the street. You don't have to be a dog owner to become a member. Here is a great place to get your craft beer, mixed drinks, and food. North Belmont is a great place to explore, especially on bad weather days when you don't want to be out on Lake Wylie.
For more information on buying or selling a home in the Lake Wylie area, call us at 803-831-8588. You can view current listings and create custom searches on our website here.