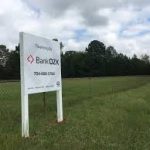 Construction is set to begin soon on a new development just west of downtown Belmont. The project, called Tower Crest should break ground in the next two months and the first homes should be ready by late summer or fall of next year. The plan is for twelve single family homes on the elevated vacant lot.
Tower Crest will be built at the current site of an athletic field located at the corner of Main and Oak Streets. The site used to be the home of the original Belmont High School before it was torn down. It is one of the last large parcels to be developed that has close, walkable proximity to downtown Belmont.
Development partners Andy Pressley of MECA Realty and BowerTraust Construction and developer Ralph Falls jointly purchased the 2.1 acre lot in June 2017 from First Baptist Church of Belmont. Pressley has been involved in Belmont Reserve residential community at Main Street and Eagle Road. This makes us excited to see what Tower Crest will bring to the community.
What we know about the community so far is that it will have two story brick homes ranging from 2,000 to 2,800 square feet. Most homes will have four bedrooms and three and a half bathrooms.They will offer two car garages and covered outdoor patios. Cars will have three entrance and exit points via driveways on Oak Street. Prices are expected to be in the mid-$400,000s to the mid-$600,000s.
Tower Crest's name is derived from the elevation of the lot and the city water tower located next door. Belmont City Council has already signed off on the project so the next step is breaking ground which should be in the next two months.
Pressley says "Our projects are not just a quick little infill. Our main objective as a company has been to leave things better than find them." This is a project we will definitely keep our eyes on.
To learn more, check out the article in the Gaston Gazette.