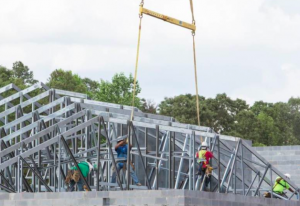 Plenty of potential new development is in the pipeline for Fort Mill, with a variety of proposals recently submitted to York County planners. One major proposal includes a 4-acre residential community located off of Sutton Road at 1879 Camber Woods in unincorporated Fort Mill between existing sections of Baxter.
Furthermore, an additional 147 townhomes may be built at Regent Park on a property that totals approximately 46 acres. Another residential development that may come to fruition is a single-family subdivision off of Kennel Road in Fort Mill between Springfield and Foxwood totaling approximately 29 acres.
As far as commercial development goes, there is a warehouse distribution center totaling 370,000 square feet that could potentially be moving to Lakemont Business Park on the 60-acre site near Carowinds. Also in the works is a convenience center at 2093 Fort Mill Parkway that will include a permanent trash and recycling center. There is also a plot of land on the corner of US 21 and Garrison Farm Road in the Fort Mill area that was an auto sales site and is up for redevelopment.
There are discussions of a new school located at 1894 Zoar Rosd near Tega Cay on a near two-acre plot of land, among many, many more potential projects. All of these projects have submitted preliminary proposals to the county and are waiting on approval.
For more details and information on what could be to come in Fort Mill and the surrounding area, be sure to read the full article at Heraldonline.com.