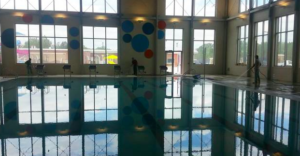 If you are a Lake Wylie resident, get ready to break out your sneakers and your workout pants.
Lake Wylie is getting a brand new, 73,500 square foot YMCA near Crowder's Creek Elementary School that will be opening in mid October. The $17.8 million Clover School District Community YMCA is one of five projects that comprise a $99 million Clover School District construction plan.
The facility will feature a stunning pool and fitness center that will be a part of what will possibly be considered one of the nicest Y's in the country. In addition to two indoor pools, there will also be a 50-meter Olympic sized outdoor pool, two racquetball courts, a basketball gym with a second-level walking track, several weightlifting rooms and plenty of exercise space, as well as a multi-purpose function room.This new facility's pool will be home to the Clover High School swim team as well as the Kicking With Confidence program that aims to provide swimming lessons to every 4th-grader in the district. After-school care will be offered, as well as plenty of activities for kids and adults alike.
The official ribbon cutting ceremony for the Clover School District Community YMCA will take place from 5 to 7:30 PM on October 12, and community tours are planned for October 13-16 before the official opening of the facility at 5 AM on October 17.
For more details on the new Y in Lake Wylie, visit heraldonline.com for the full article.