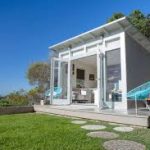 Many people have felt the lack of space during Covid. With work and school happening at home for many families, they have needed extra space. With contractors booked out for months in advance, custom sheds are an attractive option for many families.
Whether you need a school room for your neighborhood pod, or a quiet office with separation from the rest of the family, a shed can be a good option. It can be much more cost effective when compared to adding on to your house and it is easier to live through construction. If done well, it can significantly add to the value of your home. Larger sheds can even have plumbing and electricity and can be used for an income producing part of your home.
If you are thinking about an elaborate shed, you will still need to follow building codes and get permits for the work. Many homeowner's associations have rules against separate structures, so make sure to check your covenants and get any approvals necessary before you start your project.
If you are contemplating a home office, she-shed, or man-cave, there are some considerations before you get started. What kind of shed do you need? Do you have space for it in your yard? Can you make it adaptable to serve multiple purposes as the years pass? For instance, right now you might need a school room, but in a couple of years you'd like to turn it into a hangout room for teenage kids. Or maybe you need a home office right now, but when you start going into the office again, you might need a home gym, or craft space, or mother-in-law suite.
Getting started on a project like this can be daunting, but there are some companies that can help make it almost painless. StudioShed and Tuff Shed are just two of the many companies ready to help expand your space. Prices can start at just a few thousand dollars and can climb much steeper if you have electricity and plumbing and luxury options.
If you are interested in buying or selling a home in the Lake Wylie area, call us at 803-831-8588 to get started. You can view current listings and create custom searches on our website here.