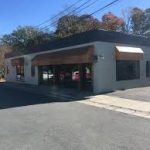 A vacant storefront is soon to become a new Bar in downtown Belmont. The property is located at 101 Kenwood Street and it is currently under construction being outfitted to become a great venue. Opening of this space is expected sometime in 2019.
The space did have the same owner for more than a decade, but is under new management. Jimmy Smith owned and operated Belmont Food and Beverage in the space from the middle of the 2000's until 2015 when he renamed the space Supply. He chose to end his lease and close down almost a year ago and the space has been vacant until now.
One of the people behind the new bar is Chuck Craig, operating partner of Mayworth's Public House in downtown Cramerton. Mayworth's Public House features a great menu of made-to-order food using the freshest ingredients available. They complement the bar selections which include a rotating selection of craft, draft, and local beer. If this new space is anything like Mayworth's, we're excited.
The style and configuration of the new space have not yet been made public, but the building was built in the 1950's and has around 7,500 square feet of space. The location is about a block away from Main Street close to City Hall and other bars and restaurants. We don't yet know if the restaurant will be open for lunch, but expect at least dinner and most likely weekend brunch. We should know more about the space and the direction the new concept will go after the first of the year.
To read more, check out the The Gaston Gazette.