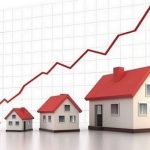 We have all noticed prices of goods and services going up over the last few months. From gasoline to groceries, rising prices have affected consumers in all income levels. But is this inflation a long term trend leading to a recession or will it resolve itself as quickly as it started. The answer is, it's complicated.
There are a lot of factors that led to the current inflation we are seeing. In addition to other factors, the stimulus that the government distributed led to many more people buying goods. Manufacturing was down in capacity and supply chains were stretched thin due to the pandemic. The increased demand for a smaller amount of goods drove prices up. Then the war started in Ukraine. This led to oil prices rising and cost of food to go up as Russia produces a lot of the world's oil supply and Ukraine supplies much of the grain and food. So, complicated.
Do you need to worry about a possible recession? If you own your home and have a fixed-rate mortgage, you don't have too much to fear. Wages are up and unemployment is still low so if you lose a job, it should be pretty easy to find another one.
In addition, the government is releasing some controls to help stabilize the economy. The first line of defense is the Federal Reserve raising rates on some key indicators designed to slow inflation by making it more expensive for banks to borrow money. This in turn raises interest rates on loans and credit card debt which should slow things so the supply chain can catch up at last. They are also releasing barrels of oil from the strategic reserve and we have already seen prices at the pump lowering in the past weeks.
For the real estate market, we are seeing fewer homes with multiple offers the day they are listed. Prices have yet to come down, but that could happen if we do enter a recession.
To learn more about current market conditions or about buying or selling a home in the Lake Wylie area, call us at 803-831-8588. You can view current listings and create custom searches on our website here.