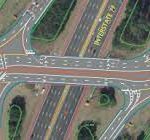 For those of you who exit Interstate 77 at Gold Hill Road, be prepared for a new type of intersection. This Diverging Diamond Interchange is now open though it is still under construction. This is the first Diverging Diamond in South Carolina though they are used in many other states. The opening is great for commuters who have been stuck in traffic there for a while, but the new setup can be confusing.
The new intersection opened up on Monday after being closed for the weekend. The idea of this type of intersection is to eliminate left turns that take up time and cause congestion. This should also improve safety at the interchange.
The main idea of the diverging diamond is that when you cross over the highway, you will move from the right side to the left side, then back again. Oncoming traffic will shift the same way so that there is no oncoming traffic to make you stop and wait while trying to take a left turn.
A video explaining the process has been provided by York County and Pennies for Progress road improvement program. The link is below so you can see it in action so you can be prepared when you get there.
There are clearly marked lanes and a concrete barrier in place so you don't end up driving the wrong way. Hopefully when fully completed in October, the intersection will ease congestion from Fort Mill and Tega Cay at I-77 for the roughly 25,000 cars that pass through each day.
To learn more about any home or neighborhood in the Lake Wylie area, call us at 803-831-8588 and we can help you find the perfect home for you and your family. You can view current listings and create custom searches on our website here.