After a close call with a 2 year old girl earlier this week, Belmont's YMCA is training with a new technology designed to prevent pool drownings. Earlier in the week, paramedics arrive at Ballantyne's YMCA to respond to a drowning call. A lifeguard had pulled the young girl from the pool and she was alert and breathing. The girl's father later reported that luckily she was doing fine.
In response to this incident, lifeguard's have begun working with a new technology developed by Dr. Graham Snyder, a pediatrician from Raleigh. He had dealt with many tragic drownings in the past and developed the new "swim safe" neck bands in response to that.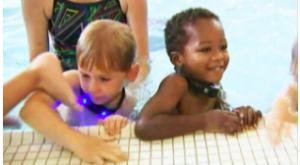 The band is designed to fit around the child's neck before they go into the pool. If the child is underwater for more than 15 seconds, the band will begin to flash and sound an alarm to alert nearby lifeguards. Dr. Snyder said that he had seen too many young children die from drowning over the years and wanted to develop something to help remedy that. If the bands are a success in Gaston County, the plan is to expand their use throughout the rest of North Carolina. This technology could be vital to saving many young children in  the future.
To read more about this new invention and how it can help North Carolina children, be sure to check out the full article at www.wsoctv.com