Diners in Belmont are in for a treat this weekend as Seven Oaks Cafe is set to open for brunch on Mother's Day this weekend. What makes Seven Oaks Cafe unique is the location in the historic John Davidson McLean house that dates back to the 1850's.
The location of the restaurant is close to Lake Wylie and Daniel Stowe Botanical Gardens so it is a great stop before or after visiting either place. There is a garden onsite that will produce food for the restaurant as well as many items sourced from local farmers.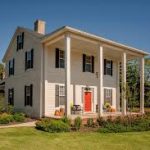 Seven Oaks Cafe is named for the seven magnificent oak trees that surround the home. There is an inside dining room as well as an outdoor patio with additional outdoor space for dining and events.
Brought to you by Chad and Katy Hutcheson of the String Bean with chef Ron Drappeaux, we can't wait to see what they have cooked up. The building is a mix of historical and modern and the cuisine looks like it may be too. Expect sandwiches, snacks, soups and salads, in addition to brunch favorites
Seven Oaks Cafe is located at 175 Armstrong Road and should be open from 10am to 3pm for brunch on Sundays. Additional hours will be 11 am until 8pm Tuesday – Saturday. They will be closed on Mondays.
If you're in Belmont, even just to celebrate your mom this weekend, do yourself a favor and check out Seven Oaks Cafe. To read more, check out the entire article in the Charlotte Business Journal.