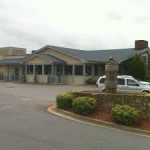 The buzz is that a new mediterranean restaurant is coming to Belmont. The owners, Gus and Vicki Georgoulias have been in the business for a long time. They used to own Cosmos Cafe in Uptown Charlotte which opened in 1997 and Mythos which was a nightclub opened in 1993. They bring their years of experience to this new venture.
The restaurant will be called "Estia's Kouzina" and is located at 609 N. Main Street. Named after Estia, the Greek goddess of hearth and home, and Kouzina is Greek for "kitchen". The new restaurant will be Greek-influenced, but have emphasis on healthy, tasty, and unique flavors.
The site is the former home of a catering company and a Chinese buffet and steakhouse. This new revitalization will be a vital part of downtown Belmont and will be a truly family restaurant. Gus and Vicki's children are already helping and will continue to be a presence. Belmont is a family community and Estia's Kouzina will fit right in.
The menu should bring the owner's experience with Greek and Mediterranean-inspired homemade meals to the table. They will be recipes that have been passed down, but will be paired with local ingredients and locally sourced products. Staples such as gyros, souvlaki, moussaka and more will most likely grace the menu as well as tapas for quick bites.
Seating for around 240 people in the main dining room will pair with several private rooms, a bar, and outdoor patio. Local beer will be on draft and there will be a few television screens.
Estia's Kouzina will be open Monday through Saturday for lunch and dinner service. Sunday they will be open for brunch. Outside catering will also be available. The build out of the space is still in progress and the owner's expect an opening sometime in the middle of the year.
For more information, be sure to check out the full article in the GastonGazette.