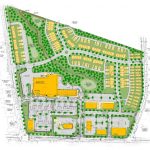 Builder Eastwood Homes will soon break ground on a new project that will expand Belmont Town Center. This project has been in the works for a while, but the construction will finally begin soon. The parcel was graded and prepared last fall, and the construction permit was approved in February of this year so buildings will soon follow.
Belmont town center is located along South Point Road at R.L. Stowe Road, just across the street from South Point High School and includes a new Harris Teeter as the anchor store. There are also restaurants, medical offices, and a health club that are either open now or will soon open. This makes these homes a great buy as you can walk to most everything you need.
The development will include 76 townhomes and 23 single-family homes. They will wrap around the existing commercial development. There is no information from the builder yet, but we anticipate construction to begin in the early summer on both the townhomes and the single-family homes. The townhomes are projected to have alley-load plans, with garages facing an alley instead of being in the front. This should make for a clean and walkable streetscape for the neighborhood. The townhomes are rumored to have 2 and 3 bedroom plans. No word yet on the design or plans on the single-family homes.
Joining the Eastwoods Project will be another new residential project by AMH Development out of Cornelius. They are planning 83 single-family homes in a community between Stowe Point and Belmont Town Center. This project is still in review by City Council and is projected to be approved for building to begin this summer.
To read more about this new development, read the full article in the Gaston Gazette.