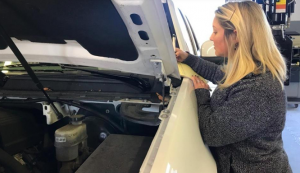 After decades of tinkering with cars, a Belmont man has finally fulfilled his dream of opening up an automotive shop. The shop is called South New Hope Automotive and it is located near the intersection of South New Hope and Twin Tops Road. It is open 8 am to 5 pm every Monday through Friday.
Sid Allman has been working on opening a shop since 2008 and eventually signed a lease on the property in March. Since then, he has been renovating the property to make it perfect for customers. Allman has worked at a dealership repairing cars for 17 years and has said that the one thing he noticed was that they tend to overpromise customers. he says he does not plan on doing that at his new shop.  He hopes that he is able to call his customers friends and develop his shop into more than just a place of business.
Allman says the best part of his new shop is that he no longer has to commute to work so he is able to spend more time with his family. His wife even works with him in the shop.
The opening of this shop is on trend with the expansion of Belmont. New shops have been opening every day as the area becomes more popular. To read more about Allman's new automotive shop, be sure to check out the full article at gastongazette.com