Mill Creek Falls is a beautiful neighborhood located just a short distance from Lake Wylie. The neighborhood is just south of the North Carolina line which puts it in a perfect location, allowing residents to receive the benefits of lower South Carolina taxes while still being close to Charlotte's city life. Being close to Lake Wylie allows for many outdoor activities like boating, fishing, hiking, and many other water sports. Mill Creek Falls is also within half an hour of the international airport and a new outlet mall.
The neighborhood itself also comes with many amenities. It includes a swimming pool, two tennis courts, and a six acre community lake with gazeboes, picnic tables, and grills. There are also walking trails that have all been recently updated. In addition to these amenities, Mill Creek Falls hosts a variety of family friendly events and activities throughout the year including an annual egg hunt, a carnival, and a drive in movie, making the neighborhood the perfect environment for families.
There are currently 9 homes on the market in Mill Creek Falls, which represents almost 3 months of inventory. This means the neighborhood is more of a seller's market right now, consistent with the markets of York County as a whole.

In the last year, the average price per square foot has remained the same while the average sales price of homes has slightly decreased. Homes are listed from $280,000 up to $415,000.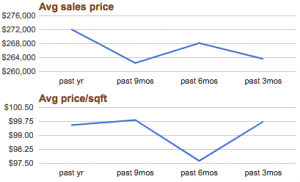 With so many neighborhood amenities and nearby activities, Mill Creek Falls is the perfect family neighborhood and is definitely worth checking out!