If you have always wanted to live on the water, but you don't want the crowds that can form in Lake Wylie, try Golden Pond. Homes in Golden Pond surround a private pond that is large enough for fishing, swimming and non-motorized watercraft so it is quiet and serene. Golden Pond has a Clover, South Carolina address and feeds to award-winning Clover schools.
Golden Pond is located right off Handsmill Highway on the South Carolina side of Lake Wylie. From the neighborhood it is a quick trip to Highway 49 to connect you to highway access. There are many nearby choices for shopping, dining, and entertainment. There are public boat launches nearby as well to enjoy motorized watersports on Lake Wylie.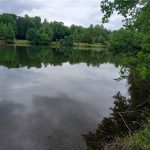 Lots in Golden Pond are large and homes are varied in size and style. They range from ranch style to split-level to double wide homes. Single-family homes typically have 3-4 bedrooms and 2-4 bathrooms with between 1,200 to 2,000 square feet of living space. Homes fronting the pond have decks, patios, or sunrooms to take advantage of the views.
Many of these homes have outbuildings for workshops, garage storage, or second living quarters. With no homeowners association, if you purchase a home in Golden Pond, you will only have to follow restrictions put in place by the City of Clover.
In the past year, just one home in Golden Pond changed ownership. It sold after just 4 days on the market. This home was a 3 bedroom, 2 bath with 1,290 square feet of new construction that sold for $206,000. There is currently one home listed for sale in Golden Pond. It is a 2 bedroom, 2 bathroom with 1,378 square feet offered for $180,000. This home has almost 2 acres of property, but the home itself is in need of some work.
For information about Golden Pond or about buying and selling homes in the Lake Wylie Area, call us at 803-831-8588. You can view current listings and create custom searches on our website here.