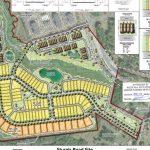 New housing starts are up nationwide to a rate not seen in 16 years. Business Insider reports that housing starts rose to an annual rate of 1.79 million in March and beat the median forecast and marked the fastest construction since 2006. This is great news for buyers as they might start to see more supply which means more choices.
Some great new choices for new construction housing are coming to the Rock Hill area in South Carolina. The Rock Hill Planning Commission recommended approval of a plan for rezoning for a new project by Mattamy Homes that would include single family homes as well as townhomes.
The project is located on the North side Sturgis Road south of Dave Lyle and west of Waterford Park.
According to plans filed with the Planning Commission, Mattamy Homes will be building 193 residential lots on 64 acres of currently undeveloped, wooded land. There will be a mix of single-family homes and townhomes. Four public streets and seven private alleys will connect throughout the new community called Bratton Pointe. The plan also calls for turn lanes for ease of access into the new neighborhood. The preliminary plans also call for a dog park though there could be additional amenities once the plans are finalized.
The location is perfect for commuting to Uptown Charlotte, and is close to the lake for anyone looking for watersports or natural hiking areas. There is great shopping and dining close by as well as entertainment, fitness, and much more.
For more information on this new construction project or about buying or selling a home in the Lake Wylie area, call us at 803-831-8588. You can view current listings and create custom searches on our website here.