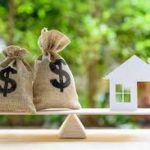 Canopy Realtor Association has released the monthly numbers from the Canopy Multiple Listing Service. According to the report, the big story is that sales are down, and pending sales are also down for the Charlotte Region. This means lower sales volume this month and the expectation of lower sales volume next month as fewer sales are expected to close. This signals a cool down of the market, largely driven by rising interest rates for loans and higher prices for homes.
Inventory of homes is still below one month of supply, and we are seeing more homes sell above list price than in the past few months with the average sale commanding 102.9% of list price. This means that we have not seen the recovery in the market we expected, but new listings were up 4.4% as some sellers are worried they will miss out on the action of the current market.
When you look at just the numbers for the Greater Lake Wylie area, you see that sales are down 21%, pending sales are down 21.7%, and new listings have not had the resurgence of the Charlotte area as a whole as they are down 11.7%. Please keep in mind that the small sample size can make the data seem extreme.
Prices are still on the rise in Lake Wylie with the average sale price up to $600,717 in May. This is up 15.9% from May of 2021. Homes are selling for an average of 102.4% of list price and are going under contract in about 17 days on average with closing in 109 days after listing on average.
What does that mean for you as a buyer or a seller? As a buyer, it means that homes are out there, but you might need to wait until the perfect home is listed which could mean that you will have a higher interest rate as the Federal Reserve keeps raising the benchmark rate. As a seller, it means that there could be lots of buyers for your home, but as interest rates rise, your home might be on the market for a longer time before a sale.
If you want to know more about the market conditions in Lake Wylie, call us at 803-831-8588. You can view current listings and create custom searches on our website here.