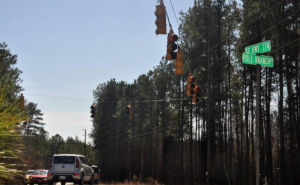 There have been recent plans by a developer for a 178 home project at a new subdivision called The Vista at lake Wylie. This subdivision would be located at 457 Highway 274 near Pole Branch Road. Although the plans fit land-use criteria, some county staff is recommending the request be denied when the planning commission meets August 14th.
The reason for this recommendation is traffic. A traffic analysis cannot be completed until two major road improvements are completed, both of which have yet to happen. The first is a signal and road relocation of S.C. 24 and Pole Branch Road and the second involves intersection changes at three points.
The first is estimated to be completed in a reasonable amount of time because the entire plan has already been funded and approved by a Pennies for Progress campaign. The second part is up for another Pennies for Progress referendum in November. The $7.4 million project would have no other funding and there are no guarantees at this time that it would be approved.
According to current traffic reports, levels of service on nearby roads are receiving failing grades. With the new neighborhood, developers would pay for new access points to S.C. 274 and Pole Branch Road
York City Councilwoman Allison Love has said she wouldn't support this new development in the area no matter what the outcome of a traffic study is. She has said that Pennies projects currently being finished will fix traffic problems and adding new neighborhoods would increase traffic again, negating and progress or improvement. She also supports recommending denial for now in this matter.
To read more about this development and what the possible outcomes will be, be sure to check out the full article at www.heraldonline.com