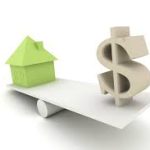 It was said recently by Travis Smith that "buying a $600,000 house now will be cheaper than buying a $500,000 house later this year". But is it really true? The Federal Reserve has already raised a key indicator which sent interest rates to rise. Industry predictors indicate that the Federal Reserve will raise this key rate another 4 times over the course of the year, sending home mortgage rates higher still.
But can the quote be true? If we examine the numbers, the basic mortgage payment can be cheaper now on a $600,000 home than on a $500,000 home later in the year depending on the interest rates. Assuming you put 20% down, the mortgage payment on a $600,000 home at 4% interest would be $2,864 per month. The payment on a $500,000 home at 6% interest would be $2,998.
On the surface, this inflammatory quote would appear to be true, by $134 per month in our example, but when you take into account the other carrying costs of owning a home, the issue becomes murkier. The additional costs that are not taken into account include taxes, insurance, and homeowners association fees.
Taxes are calculated based on the price of your home and will be higher on a $600,000 home than on a $500,000 home. Homeowner's insurance is, in part, calculated on the replacement value of a home so, the more expensive the home, the more expensive the insurance. Homeowners association fees can vary depending on the amenities of a given neighborhood. Some neighborhoods do not have homeowners associations, so therefore have no fees. If you take those costs into consideration, a $600,000 home can definitely be more expensive.
That being said, it is still a good idea to purchase a home this spring instead of waiting until later in the year because over the life of a loan, you can pay substantially more for a home if you have a higher interest rate. In our example, over a 30-year loan, you will pay almost $50,000 more in total mortgage payments on the $500,000 home at 6%, but almost $150,000 more of the amount you pay over that 30 years is interest.
For more information on the real estate market or about buying or selling a home in the Lake Wylie area, call us at 803-831-8588. You can view current listings and create custom searches on our website here.