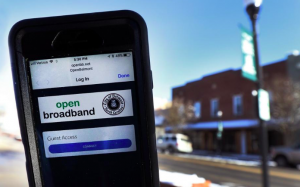 Downtown Belmont has launched free wifi to the public in the Main Street area. The internet is provided by North Carolina based service provider Open Broadband, which provides ultra-high-speed wifi. People visiting the downtown area are now able to access the 1 gigabit wireless network with no password required through any device with internet capabilities. Belmont City Manager, Adrian Miller, has commented that this new service is a logical extension of the high-tech, connected world we live in today.
Open Broadband was able to set up this wifi through antennas that are mounted throughout the downtown area. In addition, the wifi network is actually helping promote the area's local business and restaurants. When visitors select the "Open Belmont" option, an internet browser window will appear directing them to connect. This browser window will also serve as an advertising board for local shops or restaurants.
This internet provider is a favorite of Belmont, having already installed wireless antennas in several other Belmont business and residential locations. Prices for this service range from $30 to $350 monthly and the plans offered range from 25 megabits to 1 gigabit. Open Broadband is a unique and appealing option because its upload and download speeds are the same, an advantage that is not offered by every service provider.
Open Broadband is already in talks with several other areas to expand this public internet service. To learn more about how this wifi works and where else it is offered, be sure to check out the full article at gastongazette.com