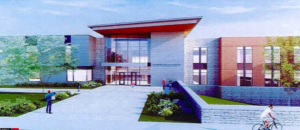 There is exciting news for the town of Fort Mill and the families who live there. Fort Mill is getting a new high school! Drawings have recently been submitted for review by the Fort Mill School District which is awaiting approval for the site layout.
The new school will be located on the southwest corner of Fort Mill Parkway and Whites Road, and there will be two entrances off of the bypass to the main building. Plans for the school will include a football stadium, a soccer and lacrosse field, a track space and three practice fields. There will also be a band practice field, as well as baseball, softball and tennis facilities.
Preliminary drawings were released in May and updates came last week. Now, the school district is in a position to proceed with the clearing and grading of the site, so the most updated drawings were voted on and need final approval so that the district can move forward with the site plan, including the access points, driveway locations, building and field locations, and general site layout, in order for permits to be issued.
Plenty of details still have to be finalized, such as the school name, school mascot and color scheme. However, since the high school is not slated to open until 2019, there is plenty of time to iron out the details. From an aesthetic perspective, the current plan depicts a school with a brick veneer and stone accents, as well as fiber cement wall panels.
For more info on the new high school in Fort Mill, as well as other projects currently in the works, read the full article at Heraldonline.com.