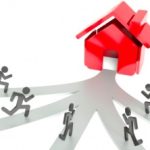 The monthly numbers have been published by the Canopy Realtor Association, and once again, we are seeing sales slip when compared to last year. This February in the Charlotte region, closed sales were down 27.8% from last February. This means just 2,731 homes closed in comparison with 3,783 last February. This continues the slow down trend we have been seeing due to rising interest rates in combination with rising prices.
New listings and pending sales are also down from last year. Inventory is climbing slightly so we now have a 1.2 month supply of homes. This is still down from a typical balanced market where 4-6 months of inventory are on hand. Sellers still have the upper hand in negotiations, but buyers are much less likely to pay over list price for a home. On average, sellers are only getting 95.3% of list price right now.
When you look at the Lake Wylie area, you see much of the same trend, except we are also seeing falling prices. Due to the small sample size, this drop in prices could be just a few waterfront homes difference, but it could be significant that prices, both median and average fell year over year. Median price is down 15.6% to $435,750 while the average price is down 3.3% to $519,818.
New listings, pending sales, and closed sales are all down from the same time last year. Inventory has risen to 117 homes, up from 62 last February. Sellers are getting an average of  95.7% of list price. Homes are also spending more time on the market before they sell. The average is now 47 days cumulatively from list until contract, up 95.8% from the 24 days average last February.
If you are curious about what your home is worth or if it's a good time for you to buy, give us a call at 803-831-8588. We would love to share our perspective on Lake Wylie and the Charlotte area. You can view current listings and create custom searches on our website here.