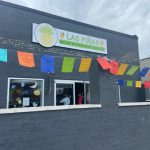 For those of us mourning the loss of Price's Chicken Coop, we tend to think that all of the good authentic restaurants are leaving. That's not the case in Gastonia. A new authentic Mexican restaurant called Las Piñas, which translates to The Pineapples, has just opened and is poised to be an instant classic.
You won't find the heavy Tex-Mex fare at Las Piñas. The menu specializes in fruit and juice based dishes. Everything is fresh and colorful with touches of spice. They have everything from hot dogs, to cakes, to Mexican-style fruit dishes perfect for the summer weather. You can also get refreshing juices of all types.
Las Piñas is owned and run by Maria Zuniga and Lenyn Henriquez and is a way to bring their culture to the people of Gastonia and surrounding areas. They have lived in Gastonia since 2006 and saw a need for traditional Mexican-style fruit dishes that they missed from their culture. They have a special wall for guests to sign their names and they have already had guests from as far away as New York and California.
Come by and check it out for yourself. They are located at 611 E. Franklin Boulevard. Hours are noon to 8 pm Tuesday and Wednesday and noon to 9 pm Thursday through Sunday. The grand opening was in late June so swing by when you need a refreshing treat.
For more information on buying or selling a home in the Lake Wylie area, call us at 803-831-8588. You can view current listings and create custom searches on our website here.