The Lakewood neighborhood of Belmont is a great enclave of smaller homes located west of historic Belmont near Goat Island Park.
Lakewood is a quiet, mature community on the heavily-wooded peninsula formed by the South Fork Catawba River.
The neighborhood is a mix of small, older homes built in the 1940s through the 1980s with styles that range from traditional brick ranches and two-story homes to more contemporary homes. Many of the homes need updating or a little TLC, but the majority has been well maintained.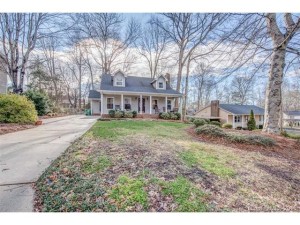 Lakewood is ideally located south of Wilkinson Boulevard and I-85 in close proximity to Cramerton and historic downtown Belmont. Its prime location makes it easy to shop for everyday necessities or grab a meal out. Downtown Belmont is less than 3 miles away. A trip to Charlotte Douglas airport is about 15 minutes, and an Uptown commute is less than 30 minutes without traffic.
Unlike newer planned communities, Lakewood does not have any amenities for residents. However, its proximity to Charlotte, Belmont and Gastonia give residents plenty of options for shopping, dining, fitness and getting outside to enjoy nature.
Kings and Crowders Mountain state parks are to the west on I-85, both about 30 minutes away. For running or biking trails or riding the rapids, the U.S. National Whitewater Center is only a 20-minute drive from Lakewood.
If you want to head out on Lake Wylie for the day, public boat ramp access is 8 miles south on Southpoint Road.
Homes in Lakewood are priced in the $100,000s to mid-$200,000s. There are a wide variety of home sizes, though few homes are larger than 3,000 square feet and most are less than 2,200 square feet.
A total of 11 homes sold in Lakewood during the last 12 months, and there are currently no homes listed on the market.
The highest price of a home sold in Lakewood during the last year was $242,400. The lowest price was $115,000.
The average price of homes sold is $163,629 and approximately $90 per square foot. Sales averaged about 96% of list price.
Homes in Lakewood are zoned for Gaston County's Belmont Central Elementary, Belmont Middle School and Stuart Cramer High School, which is a short walk from any home in Lakewood.
There are truly some great older homes in Lakewood in an area that is protected from further development due to the river around it and the park space to the south.  If you want a quiet, mature place to make a home and raise a family, then Lakewood is definitely worth a look!