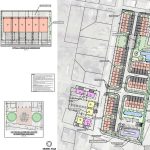 March 2022: Another mill conversion project is in the works right now in Clover. This time it is the mill site at 602 Old North Main Street. It used to be the Coltex site, aka Clover Spinning Mill. It has had other owners in its long history as well, but the documents filed with Clover Town Council list the new project as Coltex Mills Park.
Still in the planning and zoning change part of the process, Coltex Mills Park is expected to have around 52 townhomes, 3 single family homes, 3 duplex homes, and some commercial space. Plans state that the site is more than 6 acres in size.
This project is currently surrounded by homes, commercial properties, and some vacant land. The plans show the townhomes having two-car garages and driveways. There would be private streets, sidewalks, and on-street parking inside the property as well. The developer has also outlined plans for pocket parks, a playground, and outdoor grilling area, park benches, and outdoor seating.
Now that the project is before Clover Town Council, the council will need to approve zoning changes and approve the plans. After that, the construction could face other hurdles like utility connections, and traffic studies before it can finally break ground. This is one to watch for sure.
To read more about this project, see this article in the Herald Online.
For more information on buying or selling a home in the Lake Wylie area, call us at 803-831-8588. You can view current listings and create custom searches on our website here.