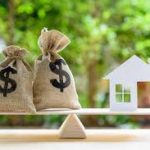 There has been a trend recently to eliminate provisions in a standard real estate contract to make a more attractive offer. This can be a good idea if you have deep pockets, or if you know what to look for in a home. For first time buyers, or even seasoned buyers it can be a costly mistake. Provisions in contracts are put there for your protection and they should only be taken out if you are sure of being able to take on the risk. Let's look at the most common contract provisions and what they do for you.
Financing – Most buyers are going to need a loan in order to purchase a home. This provision makes sure that the buyer can get out of the contract if they can't get a loan. This can be important if there is an abrupt change of employment or another factor that makes it impossible to secure financing. This is not necessary if you have an all cash offer.
Inspection – this one could cost a buyer a lot of money if waived. This gives the buyer the right to bring in an inspector to look for defects in the home before purchase. There is typically another round of negotiations after inspection to resolve any large issues like HVAC or roof. In this competitive market, many people are waiving this, but big ticket repairs could cost you a lot of money after closing.
Sale of Existing Home – this contingency allows you to get out of a contract if the sale of your existing home falls through. This is a risk to the seller of the home as the deal can fall through, but many people are waiving this provision right now to make a stronger offer. It can be risky to omit, but if you have a well qualified buyer for your home, it can be one of the least risky of the provisions to leave out.
Closing Costs – In a buyers market, the seller may be willing to pay for closing costs for the buyer, but in today's market, some buyers may be willing to pay their own closing costs or pay for some of the closing costs for the seller as an added incentive.
Closing Date – the closing date is typically around 30-60 days after the contract date so that a buyer has time to line up financing. With an all cash offer, this can be as little as a week out. Quick timing can be attractive to buyers and sellers, though some sellers may want to lease the property back after closing so they have time to find their next home.
These are the most common conditions of a home sale. Omitting any of them from a contract can hurt the buyer or the seller. In this market where you want to stand out, it is important to know the level of risk you are willing to take on to win a multiple offer situation. Give us a call at 803-831-8588 and we can put together a winning plan. You can view current listings and create custom searches on our website here.